---
Susanna Park wrote the attached petition to the Holy Father.
This photograph shows her performing a blood test on the Precious Blood of Our Lord, which descended to the Blessed Mother's Mountain in Naju on October 19, 2006.
The test showed that the Blood was type AB.

<![if !vml]>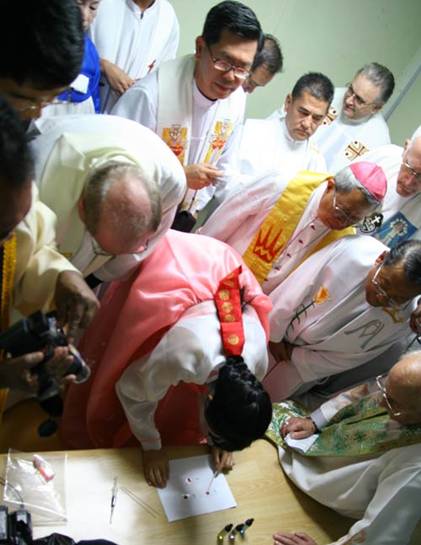 <![endif]>
---
A Petition to His Holiness
Pope Benedict XVI,
the Father of the Church,
whom I love and respect<![if !supportLineBreakNewLine]>
<![endif]><![if !supportLineBreakNewLine]><![endif]>
February 9, 2008
Your Holiness,
My name is Susanna Eun-Kyung Park, 31 years old and living in the City of Daegu in the Republic of Korea. I am a medical technician.
I had been living in darkness and misery without any hope or joy, but began a new life of resurrection through the Blessed Mother of Naju. I present this petition to Your Holiness, the Father of the Church, as those who have received much grace through their pilgrimages to Naju are now suffering severely because of the recent broadcast by MBC TV with a thorough distortion of the facts of Naju and also the ruthless "Decree" pronounced by the Archbishop of Kwangju directed at the clergy, religious and laity in the whole world warning them that any of them who visits Naju will be automatically excommunicated.
My mother had conceived me before her marriage and then married a man, who became my stepfather who promised to accept everything with love. When I was five years old, I was sent to my maternal grandmother's home in the country. My grandmother ill-treated me and beat me frequently. While I became seriously ill, I was left unattended. My life was saved only because a neighbor finally took me to a hospital. My grandmother hated me intensely, because my mother conceived me before marriage, and wished me to die.
When I became six years old, my mother and stepfather also came to the country, but it was the beginning of an even greater misfortune for me. My stepfather beat me mercilessly. On one occasion, he sent me on an errand, but followed me until I was passing a secluded area. There, he began beating and kicking me. He pushed me into a rice paddy and forcefully struck my head so that I might not get up. I fainted and almost died.
I never ate a meal at ease. I had to be alert all the time, because I did not know when the beating would start. I wanted to study, but could not do so at ease. When I began reading a book in the evening, I was yelled at to put out the light and sleep. When I became 11 years old, I had to get up at 4 a.m. and, by 5 a.m., take breakfast to my mother and stepfather in the field located deep into the mountain. Then, I had to come home, feed my younger brother and sister, do dishes, and, then, go to school.
Even during vacations, I had to do all kinds of work all the time, even when the rest of the family went out for an excursion — feeding the cow with fodder, removing cow dung, cleaning the house, and doing many other chores. If I did not complete even one of the chores I was supposed to do, I had to hear unbearably abusive words and was beaten mercilessly. One day, while I was working in the field, my stepfather slapped me on my face and beat and kicked me on every part of my body. He kicked me so hard that my back was severely bruised. I thought that God alone was the string that I could hold on to in this miserable life and began going to a Catholic church. When I came home from the church, I was told, "This crazy bitch has become a Jesus follower to ruin the family," and was pulled by the hair and was beaten ruthlessly.
When several Catholic Sisters came to help the farmers, I received a crucifix and rosaries from them and hid them deep in the chest as my treasures. My parents found them and burned them in the fireplace; they overturned the dining table and said abusive words to me, "This crazy bitch will learn only if she is beaten until death." They beat me countless times.
One day, my grandmother, my younger sister and brother, and I were poisoned with the gas from coal while sleeping. The ambulance came, but only three of us were taken to the hospital, leaving me behind. While pulling weeds in the bean field, all in the family were stung by bees. All were treated except me. On another day, I came home a little later than usual and was severely beaten. My mother grabbed my hair and repeatedly hit my head against the wall. I thought I was dying. She kept on beating me for a long time.
My life seemed no better than death. My hatred and resentment against my parents grew continuously, and I decided to take revenge. I imagined killing my parents with a kitchen knife or pesticide. After thinking a lot, I eventually concluded that it would be better for me to die and swallowed strong herbicide. I did not die, but my tongue was burned and became painful. I lost the sense of taste for several months. One day in a summer, my stepfather uttered all kinds of humiliating words to me and, then, suddenly lifted up a sickle that he had in his hand to strike me down.
One day my mother was wounded severely and underwent three major surgeries. My stepfather told me to look after her instead of going to school. So I stayed with my mother and looked after her, but all I got from her in return was more abusive words and beating. When I was a high-school senior, my stepfather began using a large stick as long as an adult man for ruthlessly beating me. While he was beating me more ruthlessly than he would beat an animal, my mother approvingly looked at the scene. Her eyes were not the eyes with which a mother looks at her child but were brutal and cold eyes that would give one goose bumps.
Under such circumstances, I continuously suffered from depression and manic depression and even thought about entering a convent in order to escape from my life. However, I was extremely lonesome and decided to get married when I was 24 years old. When I made this known to my parents, they said, "You want to get married so soon without making some money for us?" They refused to give me any money to cover the expense of the marriage. At that time, I also needed to pay tuition at a college. So, I got a loan with the help of my boyfriend for the marriage. My parents came to the wedding, but, instead of bringing any gift, took away all of the gift money received from the bride's side. My husband's parents had to cover all of the expenses including the bus for the guests, the reception, and the wedding ceremony. I felt so embarrassed, shameful, and despairing.
After the marriage, even my husband, whom I had trusted, began sleeping out or coming home late after drinking. My heart hardened and my hatred of my parents deepened and turned into an uncontrollable anger. This anger amplified the hatred, which then combined with my depression and manic depression in making me contemplate suicide.
Some time later, my mother-in-law told me about the Blessed Mother of Naju and gave me a book of the messages of love and another book on how to turn our lives into prayers. I read these books at least five times. After reading the messages, I was extremely happy realizing that even I, who was as exhausted as anyone can be, was a child of God and of the Blessed Mother loved by Them. I shed tears of repentance and joy. Soon I began making pilgrimages to Naju carrying my baby on my back. During my first visit to the Blessed Mother's House (the chapel) in Naju, the fragrance of roses and the fragrance of lilies welcomed us. I had been suffering from severe contact dermatitis, but I was completely healed of it after the pilgrimage. My baby also had a severe atopy, but was completely healed when Julia Kim rubbed his skin with the water from the Blessed Mother's spring and prayed for him. More amazing was that I was healed of severe depression, manic depression, insomnia, and the urge to commit suicide. Furthermore, as I repented and prayed according to Julia's spirituality of blaming myself instead of blaming others, the whole world looked different and I was able to forgive and reconcile with anyone.
Soon after I began making pilgrimages to Naju, I telephoned my parents and said, "I am truly sorry to you and so grateful to you for raising me up. I love you." In response, my stepfather said, "I am sorry for having treated you so cruelly and not having helped you with your education." We made a true reconciliation with the grace brought by the Blessed Mother after 26 years. The Blessed Mother called me to Naju so that I may not perish in anger and resentment and enabled me to forgive even my grandmother who hated me so intensely because I had been conceived before my mother's marriage.
On a Good Friday, Julia Kim fell on the ground screaming loudly as she was participating in the Lord's pains of being scourged. Immediately her legs began bleeding profusely, and her head also was bleeding. In April 2004, I personally witnessed Julia's suffering the pains of scourging. On Good Friday in 2005, I saw tears of blood flowing down from her eyes and wept uncontrollably realizing that I was a truly sinful person. I also saw Julia Kim suffering the pains of reparation for the sins of abortion. When I touched her swollen abdomen, I could feel the small head of a baby. I also saw her underwear soaked with sweat while suffering pains in reparation for the sins of impurity.
In 2005, I was at the scene of the Eucharistic miracle during the Mass celebrated by Fr. Pete Marcial from the Philippines. During Lent in 2006, I again personally witnessed Julia Kim's suffering the pains of scourging. On October 19, 2006, I personally carried out the test of the Precious Blood that came down on the acrylic cover on the Blessed Mother's Mountain and confirmed that its blood type was AB. After this test, I more firmly believed in the Precious Blood. I also received five drops of the Precious Blood on my socks, two drops on my Korean dress, and three drops on my T-shirt during pilgrimages. I had suffered from a serious stomach illness, constantly suffering from indigestion, but this was healed, too. I also had a severe case of hemorrhoids, but, when I answered with "Amen" during Julia's talk on reparatory suffering, I was amazingly healed of it.
Your Holiness, the Father of the Church, whom I love and respect! I am really beginning a new life through the Blessed Mother of Naju. I am really filled with happiness, joy, and peace through the Blessed Mother of Naju. However, Naju is now placed in the middle of enormous difficulty. A public TV station colluded with some of the priests in the Kwangju Archdiocese in producing a video filled with false information about Naju. It is so evident that this video was fabricated according to a pre-determined scenario. After this video was broadcast, all the dioceses in Korea began persecuting the pilgrims to Naju citing the contents of this video. My family and myself are among the victims of this persecution. Numerous pilgrims including me have been mistreated in their dioceses or parishes through prohibitions, exclusions, and alienations.
In many cases, they are banned from Mass, Holy Communion, and Confession. There are even some who were expelled from their parishes. Many priests are accusing Naju as a heresy and a superstition during their homilies. This is the current reality of the Catholic Church in Korea. A person like me, who has found a new life through the Blessed Mother of Naju, cannot live without the Blessed Mother of Naju. The numerous other pilgrims who have been rescued from their miseries, healed of their spiritual and physical illnesses, and found hope would feel the same way as I do. There also are an increasing number of the faithful who are leaving the Church, frustrated at the Church's childish and silly collusion with a secular TV company for promoting false information.
Recently, on January 24, 2008, Archbishop Chang-Moo Choi of Kwangju pronounced a "Decree" and distributed it to the Catholic and secular mass media. Based on this, many of the mass media companies in Korea loudly published it to their audience all over the nation. As a result, tragic incidents are occurring all over Korea —the Blessed Mother of Naju is being accused as a heresy, and the great majority of the Catholic churches in Korea are jumping on this bandwagon announcing their support of the Kwangju Archbishop's "Decree" and expelling those who make pilgrimages to Naju from their churches. By Archbishop Choi's "Decree", which is dated January 21, 2008 and is reported by the secular mass media as supported by the Holy See, Naju is publicly condemned as a heresy; Fr. Aloysius Hong-Bin Chang, who loves and believes in the Blessed Mother of Naju, has been reportedly excommunicated; and whoever makes pilgrimages to Naju, whether he or she is from Korea or any other country in the world is automatically excommunicated. These contents of the "Decree" are reported not only through Catholic TV and newspaper companies but also through the secular mass media. Through all the mass media in Korea, the terrifying information that the Naju pilgrims are automatically excommunicated is spreading nationwide like a forest fire. What should we do about this?
Those of the faithful who believe in the authenticity of Naju but do not know enough about Canon Law have already been shaken by the MBC TV PD Notebook broadcast and now tremble before the threat of excommunication.
Your Holiness whom I respect! Please have mercy on us and free us from the shackles of false charges. Your Holiness is our only hope. As I received the new life through the Lord and the Blessed Mother who came to Naju, I am ready to sacrifice my life if needed to spread this most sublime and pure love to others. Please grant this earnest petition from an unworthy and poor soul, who implores with her life. Please take measures so that all the mistakes so far may be corrected and the Catholic Church may be renewed.
All the pilgrims to Naju who love the Lord and the Blessed Mother always pray for the intentions of Your Holiness and the spiritual and physical health of Your Holiness. I love Your Holiness!
Susanna Eun-Kyung Park
---