WORLD PRAYER MOVEMENT
HOSTS A SPECIAL TEEN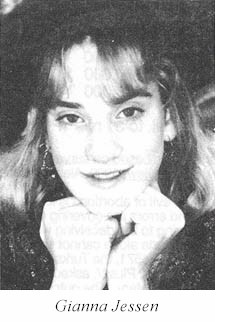 Gianna Jessen is truly one in a billion. Gianna, the peppy 14-year-old from San Clemente, California was never born. . . she was aborted.
Gianna goes about the country singing praises to the Lord and sharing her incredible life story of how she was spared from a deadly "Saline Abortion" at seven months (pre-natal). Through the grace of God, tiny two pound Gianna was born alive, instead of dead, after the legal abortion attempt.
It is reported that about 1 out of 400 saline aborted babies are born alive like Gianna was. Someone on the abortion clinic staff rescued the baby who was starving for oxygen after gulping the saline solution that burned her inside and out for hours. Later as Gianna grew into a little girl, she would have a terrible reaction to the sound of fire, like fire crackers or the sound of fire crackling in a fireplace. Her therapist concluded this hysteria to the sound of fire was due to the burning of the saline solution in her ears while she was still in the womb.
The doctors predicted that Gianna would never be able to walk or even sit up by herself. Her foster mother, who is now Gianna's legal grandmother, didn't think much about what the doctors said and began working Gianna with physical therapy, love and prayers. The first day Gianna walked at age three and a half was when the adoption was completed and she walked to her new adoptive mother, Dianna DePaul.
At the World Prayer Movement Conference, Gianna sang to an audience of 1,000 people and spoke about her feelings toward abortion. The audience's response was overwhelming. "They cry," she says simply. "People come up to me and tell me they're glad I survived. Some women who have had abortions say they are sorry they did. I always tell them I understand because they didn't know what they were doing. I'm not trying to put a guilt trip on them."
Gianna and her mother travel throughout the country. They do Gianna's schoolwork, mostly one plane flights. It's a home school program that works really well considering Gianna's learning disabilities from the abortion and travel schedule. Dianna also taught her daughter values on life since she was a child. They would often attend Pro-Life events before Gianna herself know that she had been aborted.
On Christmas day just two years ago, Gianna asked her mom for the 100th time why she had cerebral palsy. On this day her mother answered, "Do you really want to know?" "Yes," Gianna quickly replied. Her mother continued, "The reason you have cerebral palsy is because…"
At that moment Gianna said Jesus filled in the words. He spoke to her internally and said that her mother had aborted her. When Gianna heard this internally she felt a peace and understanding from the Lord. Before her mother could finish her sentence, Gianna said the words, "because my mother aborted me, right?" "Yes," said Dianna. "Oh well, at least I don't have it because of a boring reason." That was the end of the conversation.
Gianna, who gave her life to Christ at age 9, believes that the Lord told her the truth first, so it was not such a shock to her.
Gianna was officially "welcomed" to Washington, D.C. at a big press conference on Capitol Hill with Congressman Chris Smith, NJ. At the end of the press conference the press was literally speechless. She gave such a powerful witness that you could have heard a pin drop!
Gianna has a very strong impact on people. Her story is definitely part of the reality that should get out in regard to the abortion issue.
At the World Prayer Movement Symposium many people deeply touched by Gianna, especially teens. Gianna is so beautiful, it is hard to believe that anyone, much less her mother would want to murder her by abortion. Gianna believes that her biological mother lacked hope because she was only 17 years and was confused. Gianna encourages all teens to seek help if they are in a crisis pregnancy. "Just get help, there are many people to help you and there is hope."
(Source: Signs of the Times, November 1991, Aldie, Virginia)