---
First Saturday in Naju, Korea
May 4, 2013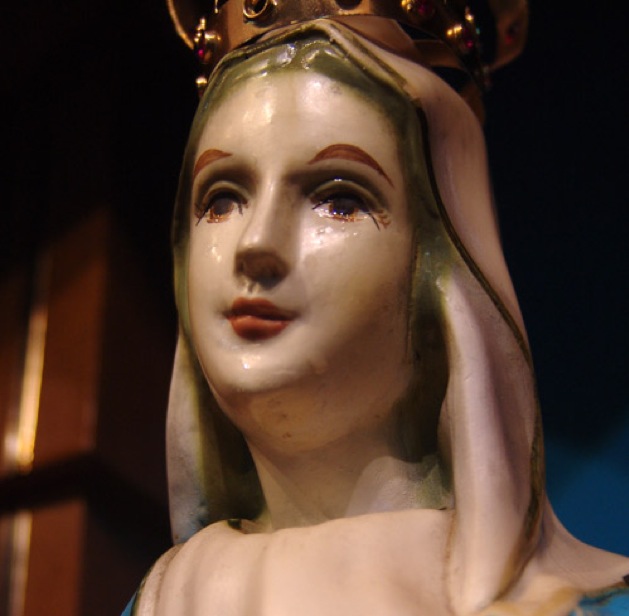 The Blessed Mother weeping tears and exuding fragrant oil through her statue on May 4, 2013, First Saturday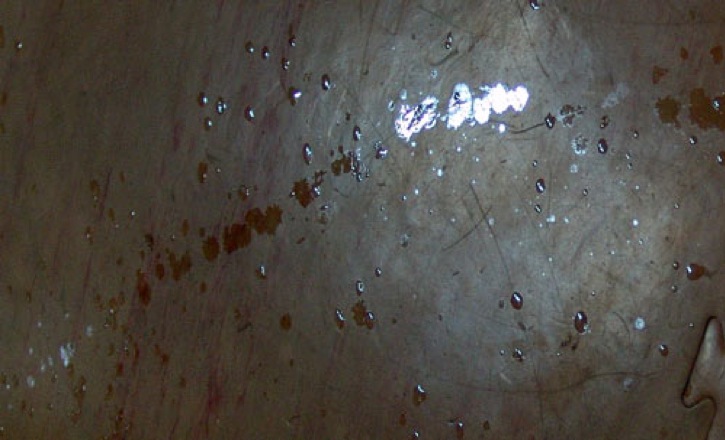 Fragrant oil also descended on the floor of the Blessed Mother's Chapel in Naju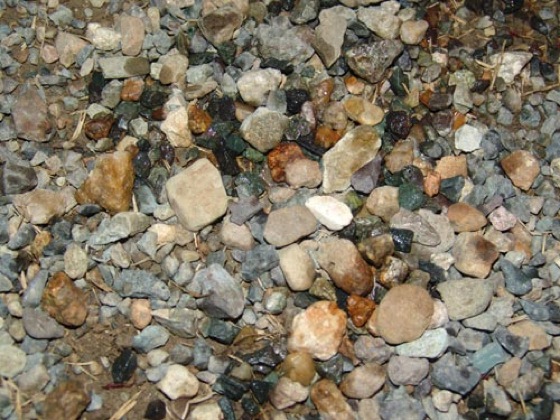 Much fragrant oil came down on the little rocks near the foot of the Crucifix on the Blessed Mother's Mountain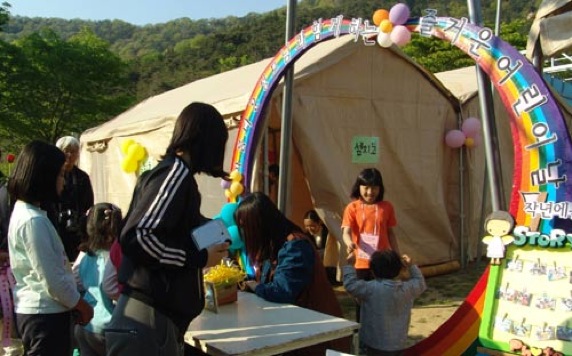 Children had a very good time with Blessed Mother on May 5, 2013, Children's Day in Korea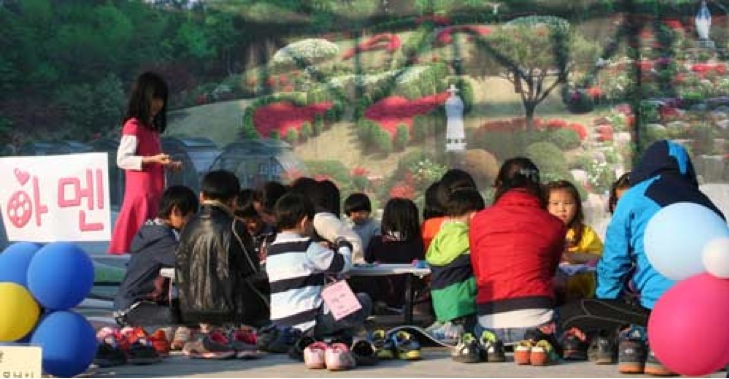 They also learned about the Five Ways of Spirituality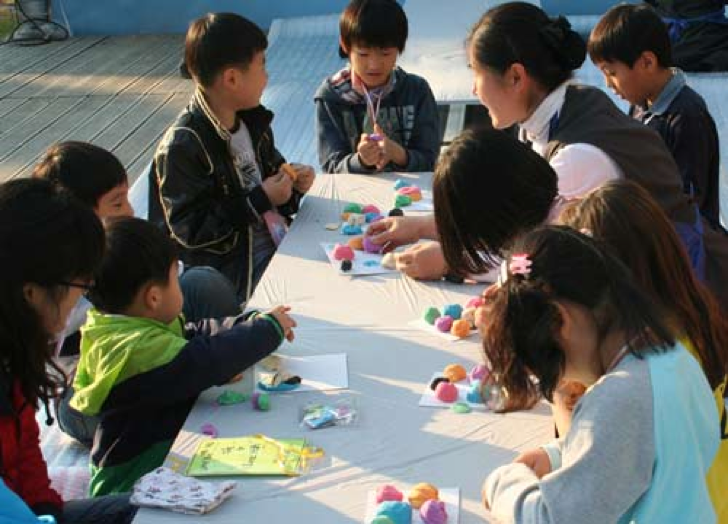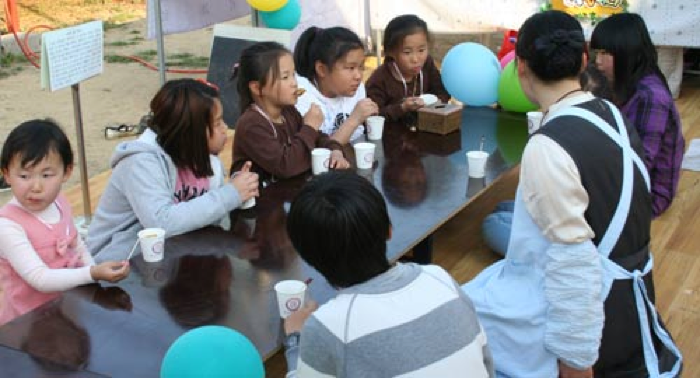 Children learn how to turn everything in their daily lives into prayers while eating dessert.
Preparing to begin the Stations of the Cross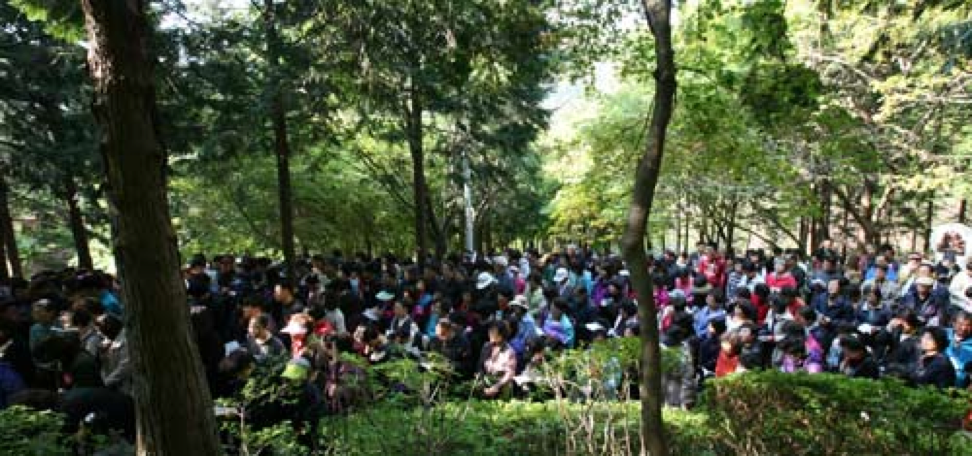 Beginning the Stations of the Cross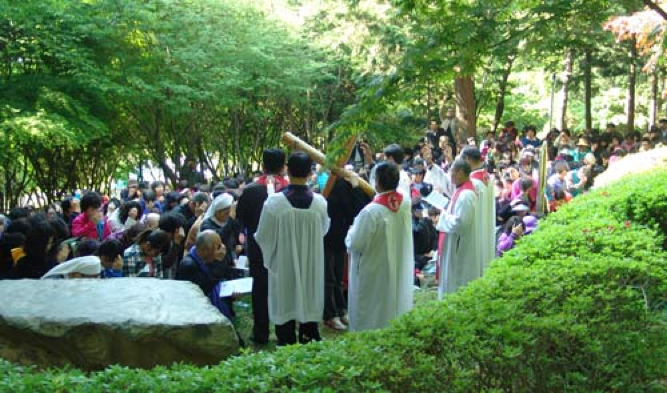 Prayers at the end of the Stations of the Cross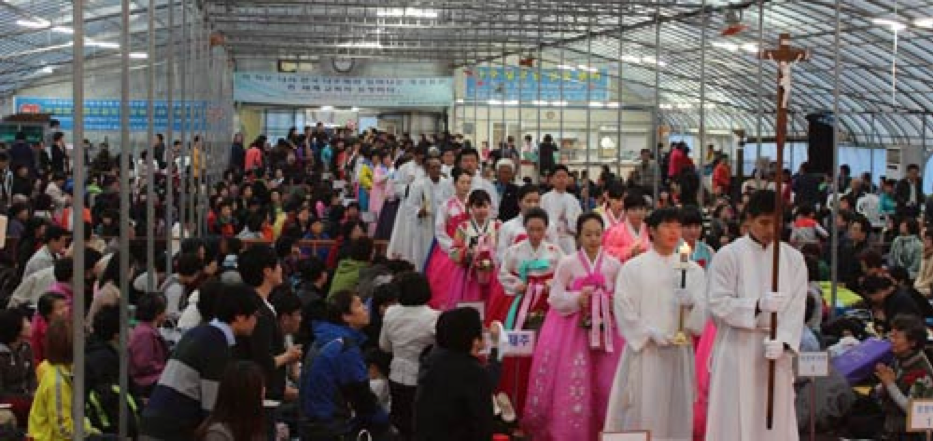 Procession into the vinyl chapel to begin the overnight prayer meeting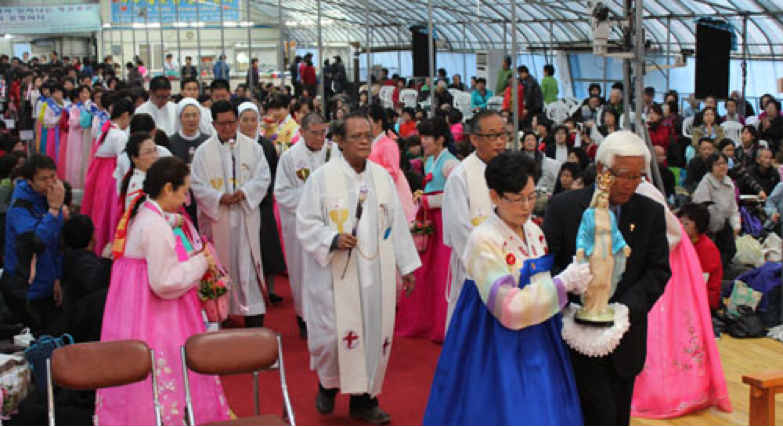 Julia and Julio Kim carrying the Blessed Mother's statue into the vinyl chapel together with priests and lay pilgrims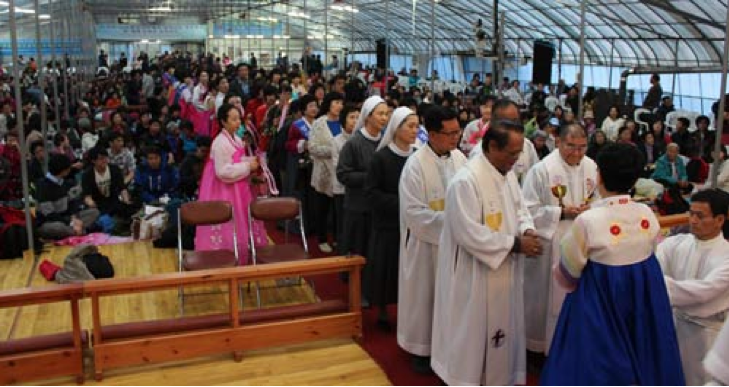 Julia receiving flowers from the priests to offer them up to the Blessed Mother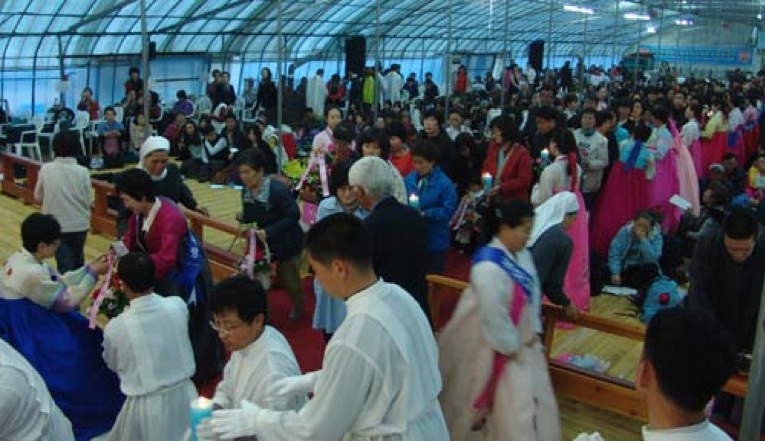 Offering up flowers and candles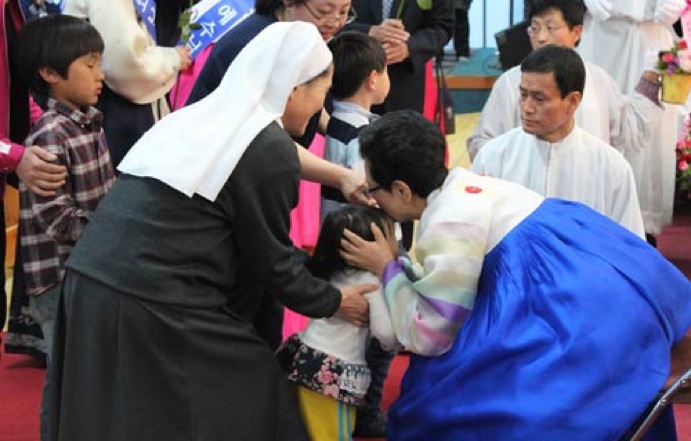 Julia kissing and welcoming children to the prayer meeting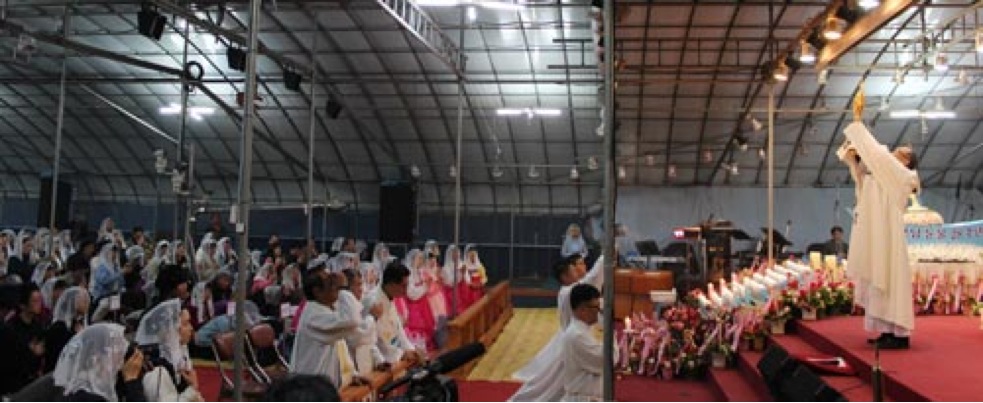 Benediction with the Holy Eucharist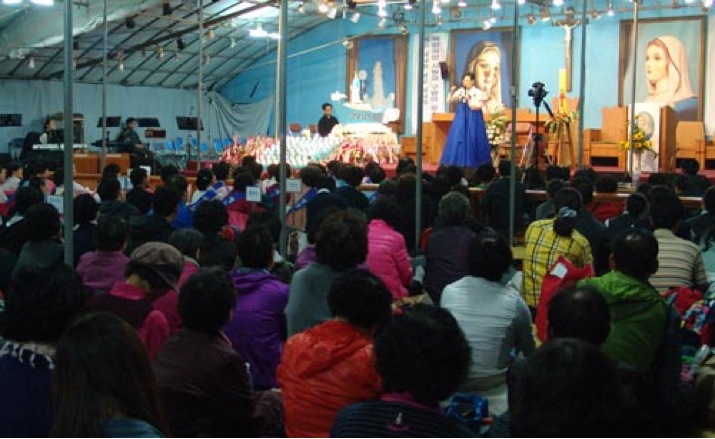 Julia speaking to the pilgrims despite her extreme pains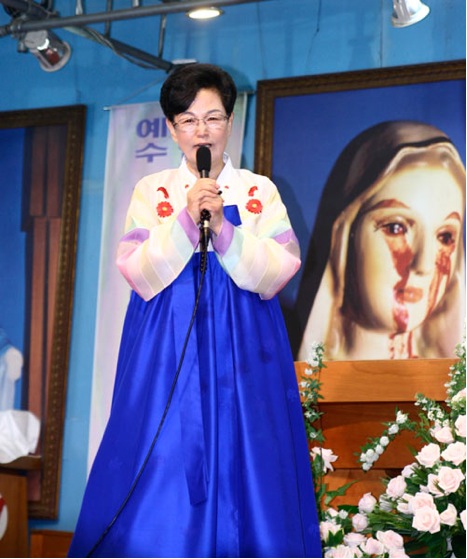 Julia giving her testimony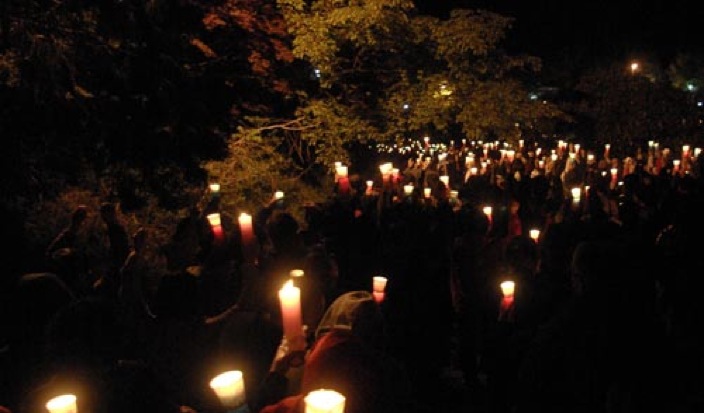 Praying the Rosary carrying candlelights and walking on the Way of the Cross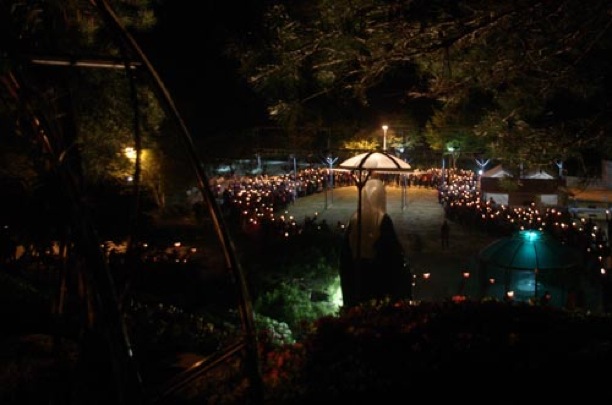 Praying the Rosary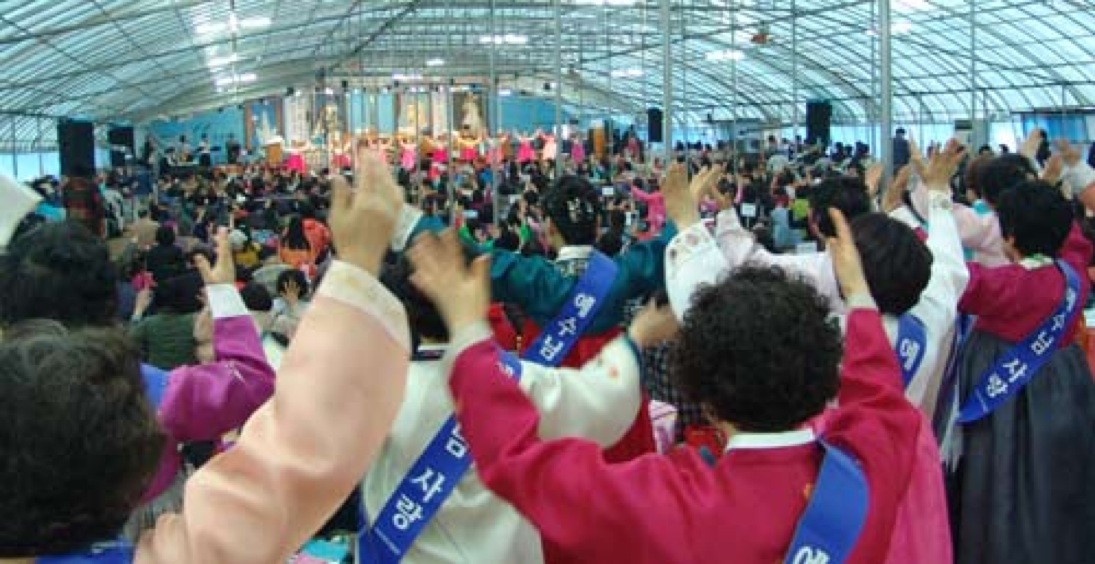 Singing and dancing to praise the Lord and the Blessed Mother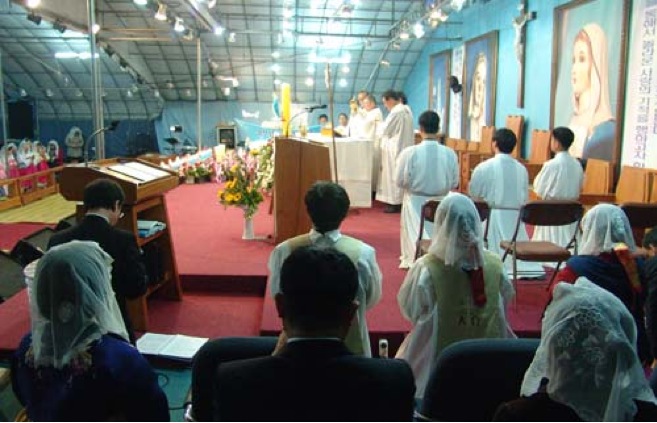 Holy Mass in the vinyl chapel

Holy Mass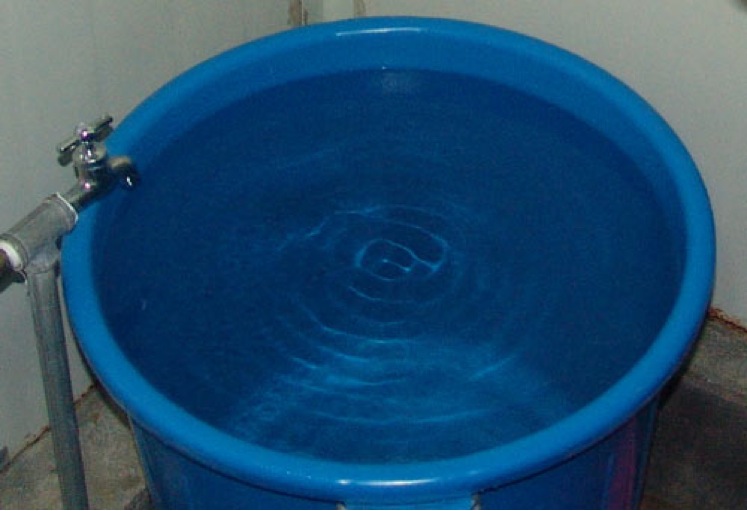 The water from the Blessed Mother's spring in Naju sometimes displays strong vibrations by itself. This phenomenon was witness by many of the pilgrims.
---
Pilgrims from abroad who came for the First Saturday of May 2013: Three persons from Indonesia including Fr. Gabriel; four persons from Japan; three persons from the Philippines; two Koreans living in Australia; and one person from Singapore.

As May 5, 2013, the day after First Saturday, was Children's Day in Korea, various programs were prepared for the children after the Stations of the Cross.

Julia suffered extreme pains for several days before First Saturday: She could not eat or drink. She vomited even when she only drank water. She had severe pains in her head, intestines, and colon. Her whole body became rigid and her facial muscles became numb. At the end of the overnight prayer meeting, she lost energy and forcefully fell on the floor of the vinyl chapel after embracing and praying for the last of the pilgrims who came to the prayer meeting.
Excerpt from the Blessed Mother's message on May 8, 1990
"I am shedding tears of blood like this because of the poor children who are ungrateful for the blessings they have received, do not give love to others, and think that the graces they have received are their own and something that they were going to receive anyhow for their own merit. Comfort my Immaculate Heart that is suffering.
Follow me, the Mother and the Helper in Redemption, entrusting everything to my immensely wide Immaculate Heart. Do not forget that I, Mother Mary, am preparing a home where you can relax. Follow me without being discouraged. I bestow the same merciful grace on all the souls who trust and follow me and testify for me. My Son Jesus will bestow the cup of blessing on you through the loving benevolence of me, who am the string that ties Heaven and earth together."
---