Message on September 17, 1996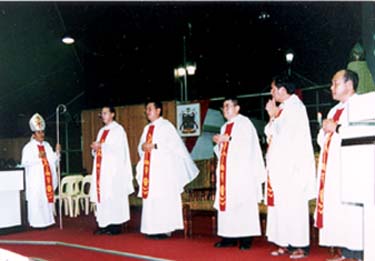 Bishop Dominic Su and other priests begin concelebrating the Mass in the Cathedral in Sibu, Malaysia

I attended the 7:30 p.m. Mass in the Cathedral at Sibu City in Malaysia. When I received Holy Communion and began meditation in my seat after Communion, I smelled a strong odor of wine. The man next to me said that he also smelled the same odor. A while later, I smelled the odor of blood. Fr. Francis Su, who came near me, and a woman sitting next to me said that they smelled a strong odor of blood, too. The Sacred Host that I received already turned into visible blood and flesh, and this was witnessed by Fr. Francis Su, who gave me Communion, His Excellency Dominic Su, who was the main celebrant of the Mass, other priests and lay people. While I continued deep meditation, light came down from Heaven and shone upon everyone, and I heard a loving, kind voice from above. It was the Blessed Mother.

THE BLESSED MOTHER:

Daughter! What are you so worried about? My Son Jesus is in glory in Heaven, but comes to you in Love even today as the Sacrificial Victim for the children in the world. You have been called to make the Lord's Real Presence known and, thereby, to help many souls to repent. Therefore, do not hesitate but spread it in a hurry. Many of the clergy are accepting me, but are hesitating (to help me) because of face-saving and others' eyes. But the bishop here is accepting me courageously. This is why the Lord is showing a sign of Love here.

As my Son Jesus is present everywhere and is with everyone, transcending national differences and boundaries, time and space, I am also with you wherever you may be. Especially, the amazing work that the Lord wishes to accomplish through my bishop and priest, who trust and follow me completely, will be accomplished, and they will be walking the way of spiritual childhood. I will give them more energy and fill their weaknesses by applying fragrant balsam to their wounds and will help them observe the Commandments that the Lord entrusted to His Apostle, Peter, and, thus, perpetuate the Paschal Mystery of Priesthood.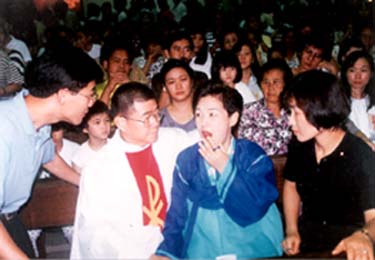 Fr. Francis Su and others witnessing a miraculous change of the Eucharist into visible Flesh and Blood in Julia's mouth
BISHOP DOMINIC SU'S LETTER
TO THE APOSTOLIC PRO-NUNCIO
IN KOREA
8th November, 1996
Most Rev. Giovanni Bulaitis
Apostolic Pro-Nuncio
Kwang Hwa Moon P.O. Box 393,
110-603 Seoul, Korea
Your Excellency,
Thank you for your letter, dated 1st November, 1996.
I was caught totally unprepared when this extraordinary Eucharistic phenomenon occurred in our Sacred Heart Cathedral, Sibu on 17th September, 1996 during the Eucharistic celebration from 7.30 p.m. to 9.30 p.m. When I think it over now, I can see that it was good for me to be caught unprepared. Had I expected beforehand that this mysterious incident would happen, I would have got a pyx ready to get this "flesh" and "blood" from the mouth of Mrs. Julia Kim for laboratory analysis. This would show that my faith in the real presence of Jesus in the Eucharist would have to depend on scientific proof. What Jesus wants from us is our child-like faith in Him and not an intellectual type of faith based on science and reasonings. That is why some Catholics, including a few priests, no longer believe in the real presence of Jesus in the Eucharist.
When our Lord Jesus performed His miracles before the very eyes of the Scribes and Pharisees, they refused to believe in Him. They called upon the Doctors of the Law, the Biblical scholars, theologians, etc. to assess Jesus. As a consequence of their assessment, they regarded Jesus as a sinner because He broke the Sabbath law. They also accused Him of using the power of Beelzebul to cast out demons. Eventually they succeeded in condemning Jesus to death.
I fully support our Church's being very cautious in considering any "apparition" or "miracle" as genuine without first giving it a thorough investigation in order to avoid being led astray by any hallucination, deceptive forces, unhealthy element, etc., etc. On the other hand, we should also keep in mind the advice given by Gamaliel to his Council. "If what they have planned and done is of human origin, it will disappear, but if it comes from God, you cannot possibly defeat them. You could find yourselves fighting against God" (Acts 5:38-39).
There was no report being made in any public press about this incident that happened here on 17th September, 1996. Only those who were present in the Eucharistic celebration know about it.
Those who believe in the real presence of Jesus in the Eucharist need no scientific proof. Those who do not believe, it does not matter what sort of scientific proof they get, they will still not believe.
During the time of our Lord Jesus, many simple and uneducated people believed in Him. Those few Scribes and Pharisees personally witnessed Jesus working miracles, healing the sick, raising the dead to life, feeding 5,000 people with a few loaves of bread and fish, claiming to be equal to God and so on, they still did not want to believe in Him.
There is no point for me to make any publicity about this extraordinary Eucharistic manifestation. Those simple people with child-like faith believe it. Those sophisticated people with intellectual faith do not. Why waste time to convince them?
The Holy See has to depend on the Bishop of Kwangju diocese — being the spiritual leader of his local Church — to assess whether those extraordinary Eucharistic phenomena happening in Naju were genuine or not since Naju is in Kwangju diocese. I understand that the whole thing is now under canonical investigation.
What happened in Sibu on 17th September, 1996 has nothing to do with the Bishop of Kwangju. It is the jurisdiction of the Bishop of Sibu to see to the matter. It has always been my belief in the real presence of Jesus in the Eucharist. I do not need any scientific proof to convince me. I often encouraged our people to turn to the Eucharistic Lord for help.
In my humble opinion and judgment, I would consider this extraordinary Eucharistic phenomenon as a Eucharistic "miracle." I enclose here three photos which were taken during the incident.
Let the Name of Lord Jesus be praised forever and ever!

Yours respectfully in Christ,

Signed by Most Rev. Dominic Su
Bishop of Sibu

c.c. The Apostolic Delegate to Malaysia
The President of the Bishops' Conference of Malaysia, Singapore & Brunei