The 13th Eucharistic miracle in Naju and the Stigmata on Julia's hands
Message on June 30, 1996
There were many pilgrims from different countries and from different parts of Korea in commemoration of the 11th anniversary of the Blessed Mother's first tears in Naju. We were praying in the Chapel. When it was almost 3 a.m. (on July 1), I saw the Precious Blood dripping from the Seven Wounds of Jesus: the Head, the Sacred Heart, both Hands, both Feet and the Side. At the same time, light was radiating (from the Wounds). Then, Jesus' Blood turned white, solidified, and began moving around together with the light. The light was gradually shining upon people in the Chapel and, then, as streams of thick fog spread out, was shining through the windows upon those who were outside the Chapel. After everyone received the light, there was the loud voice of Jesus, filled with dignity.
JESUS: Receive My Light.
At that moment, I saw that the Sacred Hosts enwrapped in the light were coming down, and I tried to receive them. Suddenly, a very powerful light came down from the Crucifix, and I felt extreme pains on my head, heart, both hands, both feet and side as if the light was penetrating them and as if many needles were going through them. Because of the pains, I screamed loudly and fell down. While my mouth was open because of the screaming, I felt my mouth becoming full of something. Those who were near me shouted, "It is the Holy Eucharist!" and gathered around me. The sad expression of the Blessed Mother on her statue changed to a joyful and smiling one. I heard the Blessed Mother's loving, kind and beautiful voice from her statue.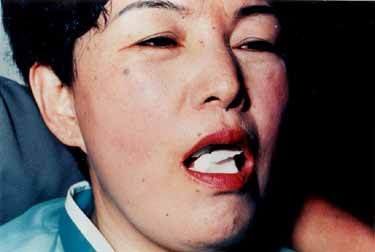 The Precious Blood of Jesus on the Crucifix turned into Sacred Hosts
and entered Julia's mouth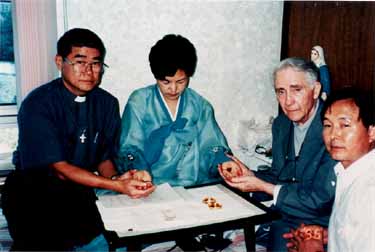 Fr. Francis Su, Fr. Raymond Spies, and Rufino Park were among
the witnesses of the Stigmata on Julia's hands

THE BLESSED MOTHER:

My beloved priests and children! Today is the 11th anniversary of the beginning of my calling you with tears and also the first anniversary of the amazing Eucharistic miracle that the Lord, Who will save you, personally bestowed (upon you) with His Precious Blood so that it may become a starting engine for revitalizing your hearts. The priests and you, whom I have selected, have responded to my call to participate in these manifestations of love and, thus, are applying fragrant liquid to the Wounds in the bleeding Immaculate Heart of this Mother, who is suffering pains for the numerous children in this world. In appreciation of your sacrifices and love, my Son Jesus bestowed special graces and love upon you. He bestowed the light of love upon all of you like morning dew by opening up His bleeding Wounds so that He could wash away all your faults, erase your sins, heal your soul and body, treat all your wounds, raise up those who have fallen, free those who have been imprisoned and rescue those who have lost their way and are wandering. The light that the Lord just bestowed on you personally transcends locations and space and was given to you in the hope that all those who are praying with me become one in the Holy Trinity.

My beloved priests and children! When you remember me and come to me to praise the Lord and honor me, I am comforted while suffering extreme pains in my Immaculate Heart caused by the erosions in the Church due to apostasy, and my tears and tears of blood turn into smiles.

The number of the souls who fall into Satan's temptations and walk toward their perdition continues to grow. But you have responded with "Amen" to this Mother's wish to rescue the souls who have lost their way and are wandering by combining and offering up my love and the love and sacrifices of the little souls. Therefore, stay awake and pray as the apostles of my burning Immaculate Heart.

The violent whirlpool of errors is becoming more severe, and heresies, scandals, and bad examples are spreading even in the Church. My most beloved priests should lead all back to the Lord, but are keeping silence, and the sheep entrusted to their care are being threatened and tempted by the terrifying wolves. That is why I have asked that Mass be celebrated here so that many priests and numerous souls may receive special graces. The Hearts of my Son Jesus and me are hurting so much, because neither has Mass been celebrated, nor has the tabernacle been prepared yet.

The Blessed Mother shed tears and continued speaking a while later.

THE BLESSED MOTHER:

My little soul! Jesus bled from His Hands, Feet and Forehead for three hours. Was that all? When the Roman soldier pierced His Body with a sharp spear, Jesus gave you Himself completely, even the little quantity of Blood and Water that was remaining in His Body. With the Blood that Jesus shed and my tears of love, I wish to wash and wipe the Pope, who is the first son of the Church and is suffering pains and groaning, carrying an excessively large and heavy cross, and all those who follow him, so that they may not lose courage but carry their crosses well and climb Mt. Calvary. Offer up your sufferings totally for the Pope, who has given up all of himself as a sacrifice of atonement and is trying to live the hour of the sacrifice in a holy way. If all of you offer up sacrifices and reparations through self-denial so that he (the Pope) may become the heart of the Church which will be born anew through the victory of my burning Immaculate Heart, the weight of the cunning scheme of the devil, my enemy, will be overcome.

All of my beloved children in the world! By following this Mother, who lightens your way as the Heavenly Prophetess, do not fall into disappointment and despair, be freed from attachments to yourselves with a special awakening, and, thus, be reborn with the supernatural love. Even if you face the hour of bloody persecution, you will be guarded and protected by the love which was bestowed upon you today, and you will find refuge in my mantle. Therefore, offer yourselves up genuinely and totally and, thus, face the new Resurrection. Whenever you come to my poor house (= the Chapel), which you call a bathhouse for your souls and the house of salvation, and express your filial love, I will open my Immaculate Heart to the children from all over the world, bestow all my love and graces upon them, comfort them, encourage them and nurture them.

Now, do not look back but become innocent infants wrapped in swaddling clothes and rely on me completely, following the messages that I am giving you. Carry joy, love and peace to your homes and pass on to everyone the encouragement of my presence. An-nyoung!

Message on July 1, 1996

At about 1 p.m., I received the extreme pains that Jesus suffered on the Cross. While I was weeping and agonizing over my unworthiness, I heard the loud voice of Jesus, filled with love and dignity.

JESUS:

My little soul! When you feel incapable and unworthy, look at Me who was hung on the Cross making so many sacrifices and receiving all the hatred, insults and contempt but could not do anything to comfort those who were weeping, especially My weeping Mother, in order to be obedient to the Father's Will. When you weep, I, too, become choked with sorrow; when you rejoice, I also become so delighted. Do not be complacent about anything, but stay awake always. With the love that rises above the mundane world, come closer to Me and kiss Me. Do not forget that Satan always lays traps to cut you off from My Love and to topple you. Even though Satan attacks you more violently than before to destroy even the genuineness of your intention to humbly follow me, do not despair or fall into fear but stand up more vigorously and courageously and spread hurriedly the combined Love of the burning Hearts of Me and My Mother. Always remember and practice these words: My Father, not as I will, but as You will. Also, tell my priests who have been specially chosen and have responded to My call.

When you make Me known, follow Me, and make My Mother known, you may experience pains. But you must lighten the dark world by hurriedly propagating to everyone the salvation that has ben won through My immeasurable pains on the Cross. When I was a baby, Herod tried to attack Me. But the Father protected and rescued Me. Likewise, I will always stay with you who are working for Me and following Me. Entrust to Me even your spiritual thirst that cannot be filled in this world. I have called you to rescue this world which has been jeopardized by the volcanic craters of hatred, formidable great storms, and so on. Therefore, do not neglect to meditate on My Sacred Wounds. For your sake, I received all kinds of ridicules, scourgings and beatings. I shed Blood and sweat and wore a crown of thorns instead of a royal crown. I suffered all kinds of pains, was nailed to the Cross and died on it.

My dying on the Cross was not the end. Even at this moment, I come to you shedding Blood in order to be with you, hoping that all — even those who crucified Me and even the most wicked sinners as well as the innocent ones — may repent, be saved and become one in the Holy Trinity. What would I spare for you who are praying to comfort Me and trying to achieve unity? If you understand that My Heart is throbbing together with Divinity and with your human hearts, you will become more intimate with Me. When you settle down in Me by meditating deeply and more humbly on My Wounds, you will receive more abundant energy. Carry out the sublime task that I have entrusted to you.

Fr. Spies, Fr. Francis Su and several lay people were with me.

Message on July 2, 1996

At about 1 p.m., I went to the Chapel where the Blessed Mother's statue was. Fr. Spies, a pilgrim from abroad and Rufino were standing before the Blessed Mother's statue. There also were other pilgrims praying in the Chapel. I gave many postcards to Fr. Spies for those who work for the Blessed Mother of Naju all over the world. At that moment, light came down from the Crucifix and I fell down screaming in pain. The pain was the same as yesterday. Some time passed. Then, I heard the Blessed Mother's beautiful voice through her statue delivering her loving and kind words.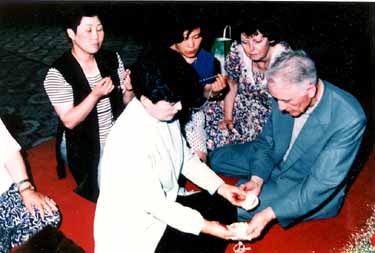 Fr. Spies and others looking at the Stigmata on Julia's hands
on July 2, 1996.

THE BLESSED MOTHER:

My beloved daughter! Completely offer up the pains in your wounds for the Pope. As water is added to wine, becomes mixed with wine, and becomes one with wine during the Liturgy of the Eucharist, let your souls become dissolved in me so that Divinity and humanity may be united and become one. Pray that the Pope's representatives, cardinals, bishops, and all the priests and religious who are always loyal to the Pope may become one in the Holy Trinity. If they all wake up, the scheme of Satan, my enemy, to lead you to eternal perdition, deprive you of the Sanctifying Grace and enslave you can be defeated. Then, the darkness in this world will retreat, and you will face the bright splendor of God Who wills to save you.

While writing down the messages, I spoke to Rufino about the messages. At the moment we were talking about the Blessed Mother's request for a tabernacle and celebration of Mass in the Chapel and about her great sorrows because her request was not complied with yet, Satan, who was not visible, lifted up a water pail in the room and struck me on the head with it. He also turned the table upside down and threw away the sheets of paper on which I was writing down the messages. I fell down and got hurt on my right hand. The hand became swollen. Rufino and I laughed together, thinking about the devil's anger over my writing down the messages and about his despicable act.

Lord! Glory and praise to you. Have mercy on the Holy Father who is in pains. I offer up my pains for the Holy Father. Amen.