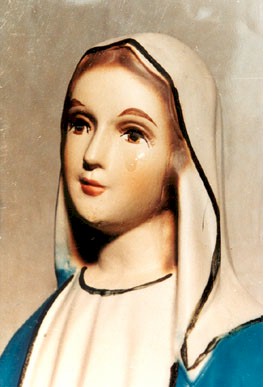 Message on June 14, 1987
While I was feeling sorry for my unworthiness and whipping myself, the Blessed Mother began speaking with a tender and friendly voice.
THE BLESSED MOTHER:
Julia! Do not brag about anything. Instead, be humble and loving. Do not own luxuries, but live like a pilgrim and a traveler. Until you are embraced in the bosom of this Heavenly Mother, become a poor and little person who serves all others - always, Julia!
While following the footsteps of the Saints for the cause of Jesus, do not concern yourself too much with any criticisms. Even when you are whipped by others, give them peace and do the things that can benefit them by living a life of sacrifice and reparation.
Every day and at every moment, lower yourself thinking about Jesus on Mt. Calvary and keep going down from the higher place following me, your Mother, who wants you to walk the way of perfect virtues through poverty, humility, obedience, and purity.
Shouldn't we become lower like Jesus who voluntarily lowered Himself? Change your life further and thus throw away every attachment and change even your value system.
Live a life of repentance. At every moment, repent and converse with Jesus. Repentance does not just mean repenting sins or regretting and crying; it means trying to live the life that God wants you to live, isnŐt it? Abandon the life of the secular world and try to put the life based on the Gospels into practice. Live according to your resolution to live a pure and chaste life like a lily. As the higher-grade protein gives rise to fouler odor, the shiny things of the world entail thick darkness. Let's die again and imitate Christ.
Message on June 15, 1987
The Blessed Mother repeatedly emphasized the importance of the Sacrament of Confession.
Julia: Mother! You have said that we should frequently make confession. How frequent should it be?
THE BLESSED MOTHER:
Yes, you are making very frequent confessions. The devils do not usually tempt people to commit mortal sins from the beginning. They make people commit many venial sins first, and when many venial sins are accumulated, people are more prone to committing mortal sins. Therefore, when you only have venial sins, make frequent confessions and keep a clean soul to receive Jesus more worthily.
As Jesus established the Sacrament of the Holy Eucharist to nurture us with His Body and Blood and to be united with us, we must praise this wonderful Sacrament by which our dying souls come to life again. However, because people do not make frequent confessions, their souls are wearing out. As you would put on freshly-washed clothes when meeting a high-ranking person, prepare to receive Our Lord with a clean soul by making frequent confessions. However hard one may try to keep the soul clean, it cannot remain spotless over time. If God created us as souls, we would not have to eat three meals a day; but He created us as humans composed of soul and body and we inherited the original sin of Adam and Eve and, therefore, are prone to committing sins. That is why your souls need to be cleaned through the healing of the Sacrament of Confession.
My beloved sons and daughters! I want you now to open your eyes and ears, open the doors of your hearts widely, and receive Jesus.