MIRACLES IN NAJU, KOREA
The Mother of the Savior brings messages and signs
from God for all her children on earth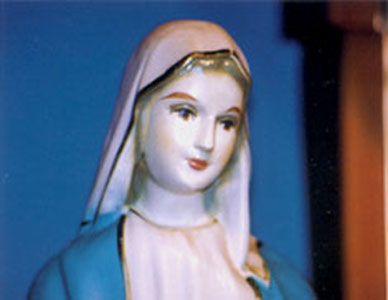 The Blessed Mother's statue exuding fragrant oil
The Blessed Virgin Mary, the Mother of the Savior, began weeping through her statue owned by Julia Kim in Naju, Korea, on June 30, 1985.
Since then, she has brought many messages and other miraculous signs, urging all her children in the world to hurriedly repent their sins and return to God, His Church, His Truth, and His Love, so that He may heal their sinful souls and restore supernatural life to them. She has especially implored us to be loyal to the Heritage of the Faith that Christ entrusted to His Church two thousand years ago and to love and forgive one another. She has also asked us to respect human lives from the moment of conception in the mother's womb.
Our Lady wants everyone to convert from a self-centered life to a life of serving God, defending and spreading His Truth, and passing on His Love to everyone on earth.
Who is Julia Kim?
Her original name is Hong-Sun Yoon. Julia is her baptismal name and Kim is her husband's last name. She was born in Naju in 1947. Her father was a school teacher and a scholar in Chinese literature. In 1950, when the Korean War broke out, her grandfather and father were killed by the Communist soldiers. Her younger sister also died of an illness. Julia, with her mother, began experiencing extreme poverty and had to work hard for survival. She could not finish junior high school because of the poverty.
In 1972, Julia married Julio Kim. Julio works for the City of Naju, in its agricultural department. They have four children — two sons and two daughters. Later, Julia's health deteriorated because of cancer and other accompanying illnesses. After several surgeries, her doctors said there was no hope.
While Julia was waiting for death, her husband took her to a Catholic priest. After hearing Julia's story, the priest consoled her by saying that her sufferings were blessings from God. Julia felt her body becoming warm and sweating and was soon healed completely. She began a fervent prayer life. She opened a beauty salon and became quite successful. (A few years later, she closed the salon.)
One night, at 3 a.m., Julia saw a vision of Our Lord bleeding miserably, especially from His Heart, which was torn by human sins. Julia was deeply moved and promised a life of reparation for the sins in the world. Miraculously, she began suffering severe pains again. Julia also received the Stigmata, the wounds of Our Lord. These Stigmata usually last for several days and disappear. They reappear later. On June 30, 1985, Julia saw Our Lady's statue in her room weeping for the first time. Two and a half weeks later, on July 18, she received the first message from Our Lady. On October 19, 1986, clear tears turned into bloody tears. Julia has continued receiving messages and suffering pains. Other miracles have also continued — fragrant oil from Our Lady's statue, the fragrance of roses, healings of incurable illnesses, and Eucharistic miracles.
A SUMMARY OF THE SUPERNATURAL SIGNS IN NAJU
TEARS AND TEARS OF BLOOD FROM OUR LADY'S STATUE: For a total of 700 days between June 30, 1985 and January 14, 1992. Samples of the bloody tears were tested in a medical laboratory and were found to be human blood.


FRAGRANT OIL FROM OUR LADY'S STATUE: For seven hundred consecutive days from November 24, 1992, to October 23, 1994.


THE EXTERNAL APPEARANCE OF BREAD IN THE HOLY EUCHARIST CHANGED INTO VISIBLE FLESH AND BLOOD ON JULIA'S TONGUE: Twelve times between May 1988 and October 1996. The miracle on October 31, 1995, was witnessed by Pope John Paul II during a Mass in the Pope's private chapel in the Vatican. Bishop Roman Danylak from Toronto, Canada, and Bishop Dominic Su of Sibu, Malaysia, also witnessed the miracles in Naju and Sibu, respectively, and wrote their testimonies expressing their belief in the authenticity of these miracles.


THE SACRED HOST DESCENDED FROM ABOVE TO THE CHAPEL IN NAJU: Seven times between November 24, 1994, and August 27, 1997. The first two miracles were witnessed by the Apostolic Pro-Nuncio in Korea during his visit to Naju.

On July 1, 1995, seven Sacred Hosts descended. They were consumed by two priests and five lay people including Julia according to the local Archbishop's instruction. The external appearance of the Sacred Host that Julia received changed into visible Flesh and Blood on her tongue. A sample of this Blood was tested in the medical laboratory at Seoul National University and was found to be human blood.

The descent of the Eucharist on June 12, 1997, was witnessed by Bishop Paul Kim of the Cheju Diocese in Korea. The Eucharist again descended on August 27, 1997, during Fr. Raymond Spies' visit to Naju. An intense fragrance is continuing (as of May 1998) from the spot on the floor in the Chapel where the Eucharist landed.


SPIRITUAL AND PHYSICAL HEALINGS: Numerous people have regained love and peace in their families and returned to the Sacraments. Many were healed physically, especially while repenting their sinful lives after experiencing Our Lady's love.


JULIA'S STIGMATA: Bleeding occurred on Julia's two hands and two feet during her sufferings. Doctors examined Julia and stated that her wounds and bleeding had no medical explanation.

A SUMMARY OF THE BLESSED MOTHER'S MESSAGES