OUR LADY OF GRACE
at San Giovanni Rotondo
St. Pioís favorite painting


This image of Our Lady of Grace is painted on the front wall and ceiling behind the altar in the church at San Giovanni Rotondo, Italy, where St. Pio lived. In this image, the Baby Jesus is trying to give us, also children of His Mother in the order of grace, His Motherís milk, which represents grace. In Naju also, Julia saw a vision in which the Blessed Mother was giving abundant quantities of her milk to her spiritual children to nurture their souls and heal their bodies. The water from the Miraculous Spring in Naju is believed to represent the Blessed Motherís milk. This reference to the Blessed Motherís milk as the grace for us is in conformity with the traditional teachings by the Church Doctors and other Saints that the Blessed Mother is the Mediatrix of All Graces. As Christ, the author of all graces, became incarnate through the Blessed Mother, she is the channel of all the graces that we receive from God.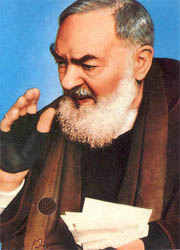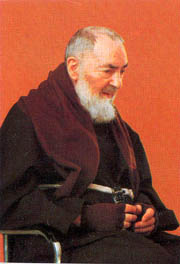 Our Lady of Grace Church in San Giovanni Rotondo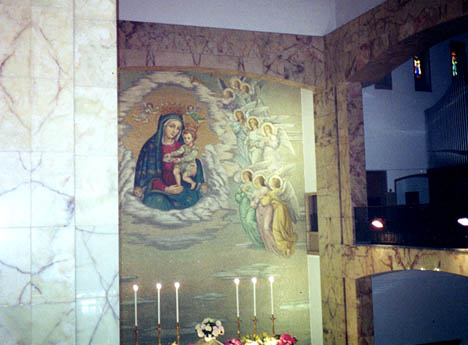 Inside Our Lady of Grace Church

---
An e-mail (June 21, 2001) from Deacon John Giglio:
Hi Dear Friend in Jesus & Mary,

I received the July 2001 Newsletter and read it with much interest and will pass it around to our MMP Cenacle Prayer group members. Thank you for the beautiful pictures! They are an inspiration to me. It's funny how the Holy Spirit always leads me to certain faith experiences. I have been praying each day to Our Lady of Perpetual Help (Novena Prayer) that as I place myself into her arms as a little babe, She would feed me with the milk of divine grace, the gifts of the Holy Spirit and that She would mold me into an image of Her Divine Son Jesus and Her image, so that I can glorify Almighty God in the Most Blessed Trinity through Her Immaculate Heart. (The Two Hearts are joined together as on the Miraculous Medal).

And to confirm this you sent me a picture of Our Lady of Grace from San Giovanni and explained the meaning of the image, that Jesus is trying to give us His Mother's milk, which represents grace. WOW! You don't know how happy you have made me, just realizing that Jesus & Mary are hearing my prayers. I also pray daily to Blessed Padre Pio and I'm sure he had something to do with this grace.

Have you heard about Our Lady of America, which is partially approved and has great meaning for the U.S.A. Check out www.spiritdaily.com for ongoing info and also a great Web Site.

God Bless your ministry

Deacon John Giglio

"In Cordibus Jesu et Mariae"
---