---
HOW THE MISSIONARY IMAGE OF OUR LADY OF GUADALUPE BEGAN
and
PRAYERS AND LETTERS FROM THE MEXICAN CHURCH AUTHORITIES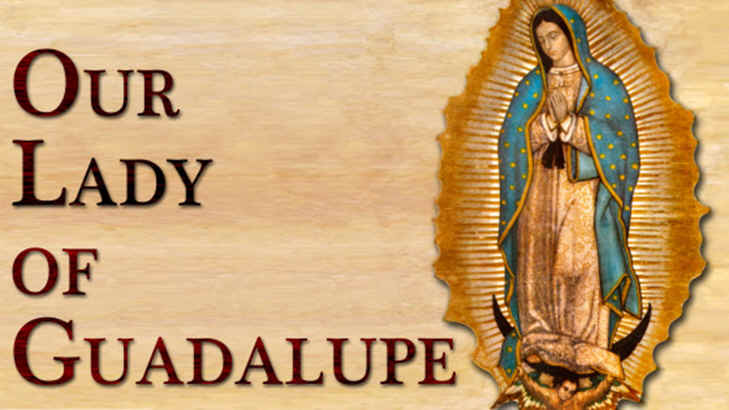 HOW THE MISSIONARY IMAGE

OF OUR LADY OF GUADALUPE BEGAN

In 1988, Our Lady revealed to Kenneth Staloch, a locutionist near Seattle, that she desired her original Image of Our Lady of Guadalupe to tour the United States and other countries in the Americas. Ken informed Fr. Walter Winrich, a Maryknoll priest in Mexico, and also with the dedication of Dan Lynch, an attorney in Vermont, the efforts to carry out Our Lady's desire began. The Mexican Bishops, however, were hesitating as they were worried about the possible damages to the Image and also the likely resentment of the Mexican people for removing the Image from the Basilica in Mexico City. As an alternative solution, the Mexican Bishops offered to give two exact replicas of the original Image of Our Lady of Guadalupe to the Church in the United States, which Our Lady accepted. These replica Images were called the Missionary Image of Our Lady of Guadalupe and the door for Our Lady's Image visiting all states of the U.S.A. opened.

On June 16, 1991, the Missionary Image of Our Lady of Guadalupe made its first visit to the United States and was displayed at the Shrine of the Immaculate Conception in Washington, DC where the International Rosary Congress was being held, and this was followed by many other visits all over the United States.

On July 29, 1991, three days before the arrival of the Missionary Image in the International Airport at Portland, Oregon, in the late afternoon that day, the entire Portland area was covered with an unusually dark clouds and then was severely pommeled with golf ball-sized hails for a while, which was something never happened in Oregon for several decades or longer. When the hailstorm ended, a extremely bright rainbow appeared in the east sky and, soon, the entire eastern and northern sky turned into dazzling golden color. This unusual phenomenon of the raibow and golden-color sky continued much longer than the usual rainbows. As it was so fascinating and magnificent, it was thought to be a sign for some impending and very important undertaking by Heaven.

This time, could this amazing rainbow and gold-colored sky in the Portland sky on July 29, 1991 signal the approaching victory of Our Lady against Satan and his devils within our current age? Could it also be intended by God to alert us to realize the importance and urgency of this era and bravely begin helping Our Lady in saving as many souls in the world as possible? It also seems that this celestial phenominon was a sign for the birth of a special gift from Our Lady to be soon given to us in the form of a special photograph of the Missionary Image of Our Lady (now available). This special photograph was taken on August 15, 1991 at the National Sanctuary of Our Sorrowful Mother in Portland and must be a truly precious and holy Image signifying Our Lady's mercy and intimate Presence with her children and also a powerful force that can drive out Satan and his devils from our hearts, our homes, and our world. The birth of the Missionary Image of Our Lady of Guadalupe must also be a sign that the Blessed Mother's purpose did not end with the miracles of 1531 and the subsequent mass conversions of the Latin Americans to the Catholic Faith, but continues especially in our days which are enormously and hopelessly burdened with the increase of abortions, the collapsing of many families, the incease of terrible wars and other cruelties, and the weakening and loss of the tradition Catholic Faith and moral discipline. [Please visit www.marys-touch.com for more information about this special photograph of the Missionary Image of Our Lady of Guadalupe.]
These photographs were taken in Gresham (eastern suburb of Portland), Oregon,

in the afternoon of July 29, 1991 soon after a terrible hailstorm.
On July 3, 2014, twenty-three years after the year 1991, the Archbishop of Portland, His Excellency Alexander Sample issued a positive and encouraging letter about this photograph and Fr. Peter Fehlner, the former Rector of Our Lady of Guadalupe Monastery in LaCrosse, Wisconsin, stated in his private letter of November 12, 2011 that he was convinced of this photograph being miraculous.
─ Benedict Lee, Mary's Touch By Mail, Gresham, Oregon. 5/8/15
---
MEXICAN CARDINAL AND BISHOPS'
PRAYERS AND LETTERS
Conference of All Mexican Bishops
The Conference of all Mexican Bishops in their plenary meeting, on their very first day, April 8, 1991, by means of the Archbishop of Guadalajara, Juan Jesus Posadas Ocampo, made the following prayers on petition of all of the Bishops: "Mother of the True God, and our Mother, Our Lady of Guadalupe, we beg you that your trip through all the Americas be realized now beginning with the Marian Congress of the Rosary in the National Sanctuary of the Immaculate Conception in Washington, D.C., the next month of June. We know that you want to end abortion in the world and convert twenty nine million Latins who have left the Church and have taken themselves over to the sects.
Lady, help us support your mission with our prayers in order that your Missionary Image will be well received in all the Americas."
---
Basilica of Our Lady of Guadalupe

OPEN LETTER TO THE


CATHOLIC PEOPLE OF THE UNITED STATES


June the 14th, 1991

The Catholics of Mexico through me are sending you an image of Our Lady of Guadalupe.

It is not the original, but rather a Missionary Image which was stationed approximately twenty steps behind the original.

Our Lady wishes to use that image to help bring back to the Church of her Son the many millions of people who have left it.

At the same time Our Lady wishes to end the horrible crime of abortions.

We, in Mexico, offer our prayers to you attending the International Marian Congress of the Rosary in Washington, D.C.

In the name of the Abbot of the Basilica, Msgr. Guillermo Schulenburg, I remain,

s/Msgr. Carlos Rogel

Pro-Vicario Episcopal
---
Basilica of Our Lady of Guadalupe

OPEN LETTER TO THE CATHOLIC PEOPLE


OF THE UNITED STATES OF AMERICA

The Catholic people of Mexico through me give to the Catholic people of the United States of America, a Missionary Image of Our Lady of Guadalupe. It is an exact photographic replica of the original Miraculous Image located in the Basilica of Our Lady of Guadalupe. It is made to commemorate the 450th anniversary of her apparitions, December 12, 1981.

May Our Lady of Guadalupe fulfill the prophecy of Pope John Paul II made on that day the Basilica will be a center "from which the light of the Gospel of Christ will shine out over the whole world by means of the Miraculous Image of His Mother."

The word Guadalupe in Spanish means "River of Light." May the Missionary Image of Our Lady of Guadalupe be a River of Light on her Journey throughout the United States. May she be well received and supported in her mission to end abortion and convert millions of hearts to the Sacred Heart of her Son Jesus and His holy Church through her Immaculate Heart!

May she, the Star of Evangelization be out hope!

I bless the Missionary Image and her evangelical mission.

s/Msgr. Guillermo Schulenburg Prado


Abad de Guadalupe y

Vicario Episcopal
---
A Prayer for the

Missionary Image of Our Lady of Guadalupe

The Catholic people of Mexico and I pray to God that the paths of the Journey of the Missionary Image of Our Lady of Guadalupe throughout the United States of America, become rays of Our Lady's love, care, protection and help for all of her children, particularly the unborn.

May she end without exceptions the horrible evil of abortion.

May she convert millions of hearts to the Sacred Heart of her Son Jesus and His holy Church through her Immaculate Heart.

May all pro-life forces unite under the banner of Our Lady of Guadalupe with her title of "Protectress of the Unborn."

I bless the Missionary Image of Our Lady of Guadalupe and her evangelical mission that began under her protection almost 460 years ago.

I congratulate all the promoters of such a praiseworthy mission and with pleasure I commend them to the hands of Our Lord.

Lady, help us support your mission with our prayers in order that your Missionary Image may be well received in America for the glory of God and the honor of His holy Mother!

+Juan Jesus Cardinal Posadas Ocampo


Archbishop of Guadalajara


Mexico, D.F., January 8, 1992
---
Dr. Daniel Lynch


St. Albans, Vermont

I greet you with best regards and wish you every good thing in the Lord.

I am happy to let you know that I received news of your apostolic work in the beloved country of the United States of America, where you promote knowledge and veneration of the Blessed Virgin of Guadalupe.

Your servant congratulates you and prays that the Virgin of Guadalupe bless your praiseworthy purposes.

In saying this, I am pleased to sign this letter with great affection, in Christ Jesus.

s/ERNESTO CARDINAL CORRIPIO AHUMADA
Archbishop Primate of Mexico
---
Basilica of Our Lady of Guadalupe

September 30, 1992

This is to certify that any Image of Our Lady of Guadalupe bearing the signatures of Abbott Schulenburg of the Basilica and Cardinal Ernesto Corripio of Mexico is an authentic official reproduction of the original Image of Our Lady of Guadalupe. Any person or group calling such Images fraudulent is committing a serious and grave falsehood.

We wish to assure you that Images bearing the above endorsements also contain our blessing.

s/Msgr. Carlos Warnholtz


Basilica of Our Lady of Guadalupe
---
The above letters and prayers from the Mexican Bishops are reprinted here with

the permission of Mr. Dan Lynch who has the copyright on these materials.

Current address of Mr. Dan Lynch:

144 Sheldon Road, St. Albans, VT 05478
Phone: 802-524-5350 - Fax: 802-524-5673


Website: www.JKMI.com
E-Mail: JKMI@JKMI.com

─Presented by Mary's Touch By Mail, Gresham, Oregon, May 8, 2015
---